Join us for our free Trust webinar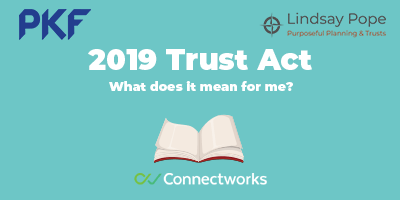 Trusts Act 2019 - What does it mean for me, what do I need to be think about, who should I talk to?
If you have a Trust, are you aware of the new Trusts legislation which comes into force on 31 January 2021? It's essential that you understand your obligations as a Trustee to ensure your Trust remains compliant.
On Tuesday 10 November at 11.30am, join us for our complimentary 60-minute webinar, 2019 Trust Act - What does it mean for me?, where you'll:
Learn about the key aspects of the 2019 Trust Act
The practicality of the requirements
How it is going to affect you and your Trust
Click here to register Click here to register